Overview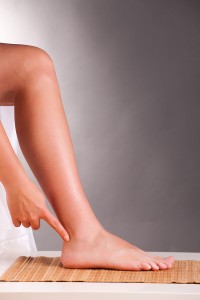 Achilles tendinosis (also known as Achilles tendinopathy) is a soreness and stiffness that comes on gradually and continues to worsen until treated. It is a common injury among middle and long distance runners. The severity of Achilles tendinosis can be broken down into four stages, each of which can be measured in terms of how the Achilles tendon feels during exercise, the amount of stiffness and creaking, and Achilles tendon?s soreness to the touch (the Achilles tendon pinch test). The four stages, or grades, are, No pain during exercise, but there is some discomfort in the morning when first getting out of bed. The stiffness and creaking go away after a few minutes and are fine the rest of the day. Lightly pinching the Achilles tendon with the forefinger and thumb in the morning or after exercise will probably indicate soreness. Pain during exercise or running, but performance is not affected. The stiffness and creaking continue to appear when first getting out of bed and continue to disappear shortly afterward. Lightly pinching the Achilles tendon with the forefinger and thumb in the morning or after exercise will indicate soreness. Pain during exercise or running that is detrimental to performance. The stiffness and creaking continue to appear when first getting out of bed, but may continue for some time and reappear at other points during the day. Lightly pinching the Achilles tendon with the forefinger and thumb in the morning or after exercise will indicate soreness. Hurts too much to exercise or run. The stiffness and creaking continue to appear when first getting out of bed, but may continue for most of the day. Lightly pinching the Achilles tendon with the forefinger and thumb at almost any time of day will indicate soreness.
Causes
Achilles tendonitis is an overuse injury that is common especially to joggers and jumpers, due to the repetitive action and so may occur in other activities that requires the same repetitive action. Most tendon injuries are the result of gradual wear and tear to the tendon from overuse or ageing. Anyone can have a tendon injury, but people who make the same motions over and over in their jobs, sports, or daily activities are more likely to damage a tendon. A tendon injury can happen suddenly or little by little. You are more likely to have a sudden injury if the tendon has been weakened over time. Common causes of Achilles tendonitis include, over-training or unaccustomed use,?too much too soon?. Sudden change in training surface e.g. grass to bitumen. Flat (over-pronated) feet, High foot arch with tight Achilles tendon. tight hamstring (back of thigh) and calf muscles, toe walking (or constantly wearing high heels). Poorly supportive footwear, hill running. Poor eccentric strength.
Symptoms
Patients with this condition typically experience pain in the region of the heel and back of the ankle. In less severe cases, patients may only experience an ache or stiffness in the Achilles region that increases with rest (typically at night or first thing in the morning) following activities which place stress on the Achilles tendon. These activities typically include walking or running excessively (especially uphill or on uneven surfaces), jumping, hopping, performing heel raises or performing calf stretches. The pain associated with this condition may also warm up with activity in the initial stages of injury. As the condition progresses, patients may experience symptoms that increase during sport or activity, affecting performance. Pain may also increase when performing a calf stretch or heel raise (i.e. rising up onto tip toes). In severe cases, patients may walk with a limp or be unable to weight bear on the affected leg. Patients with Achilles tendonitis may also experience swelling, tenderness on firmly touching the Achilles tendon, weakness and sometimes palpable thickening of the affected Achilles tendon when compared with the unaffected side.
Diagnosis
On examination, an inflamed or partially torn Achilles tendon is tender when squeezed between the fingers. Complete tears are differentiated by sudden, severe pain and inability to walk on the extremity. A palpable defect along the course of the tendon. A positive Thompson test (while the patient lies prone on the examination table, the examiner squeezes the calf muscle; this maneuver by the examiner does not cause the normally expected plantar flexion of the foot).
Nonsurgical Treatment
Supportive shoes and orthotics. Pain from insertional Achilles tendinitis is often helped by certain shoes, as well as orthotic devices. For example, shoes that are softer at the back of the heel can reduce irritation of the tendon. In addition, heel lifts can take some strain off the tendon. Heel lifts are also very helpful for patients with insertional tendinitis because they can move the heel away from the back of the shoe, where rubbing can occur. They also take some strain off the tendon. Like a heel lift, a silicone Achilles sleeve can reduce irritation from the back of a shoe. If your pain is severe, your doctor may recommend a walking boot for a short time. This gives the tendon a chance to rest before any therapy is begun. Extended use of a boot is discouraged, though, because it can weaken your calf muscle. Extracorporeal shockwave therapy (ESWT). During this procedure, high-energy shockwave impulses stimulate the healing process in damaged tendon tissue. ESWT has not shown consistent results and, therefore, is not commonly performed. ESWT is noninvasive-it does not require a surgical incision. Because of the minimal risk involved, ESWT is sometimes tried before surgery is considered.
Surgical Treatment
The type of surgery you will have depends on the type of injury you are faced with. The longer you have waited to have surgery will also be a factor that determines what type of surgery is needed. With acute (recent) tearing the separation in your Achilles tendon is likely to be very minimal. If you have an acute tear you may qualify for less invasive surgery (such as a mini-open procedure). Surgeons will always choose a shorter, less invasive procedure if it is possible to do so. Most surgeons know that a less complicated procedure will have less trauma to the tendon and a much quicker rate of recovery after the surgery.
Prevention
Although Achilles tendinitis cannot be completely prevented, the risk of developing it can be lowered. Being aware of the possible causes does help, but the risk can be greatly reduced by taking the following precautions. Getting a variety of exercise - alternating between high-impact exercises (e.g. running) and low-impact exercise (e.g. swimming) can help, as it means there are days when the Achilles tendon is under less tension. Limit certain exercises - doing too much hill running, for example, can put excessive strain on the Achilles tendon. Wearing the correct shoes and replacing them when worn - making sure they support the arch and protect the heel will create less tension in the tendon. Using arch supports inside the shoe, if the shoe is in good condition but doesn't provide the required arch support this is a cheaper (and possibly more effective) alternative to replacing the shoe completely. Stretching, doing this before and after exercising helps to keep the Achilles tendon flexible, which means less chance of tendinitis developing. There is no harm in stretching every day (even on days of rest), as this will only further improve flexibility. Gradually increasing the intensity of a workout - Achilles tendinitis can occur when the tendon is suddenly put under too much strain, warming up and increasing the level of activity gradually gives your muscles time to loosen up and puts less pressure on the tendon.